After analysing thousands of sites over the last 10 years there are many things we see every day that people do wrong, not do at all due to time constraints or a lack of knowledge. With just a little more time invested in the right activities they could easily and significantly improve their organic Ecommerce rankings.
Download our guide "5 things you can do to smash Ecommerce SEO in 2021-22″to learn all 5 steps to boost sales revenue from organic traffic.
Find this guide on our SEO Page here.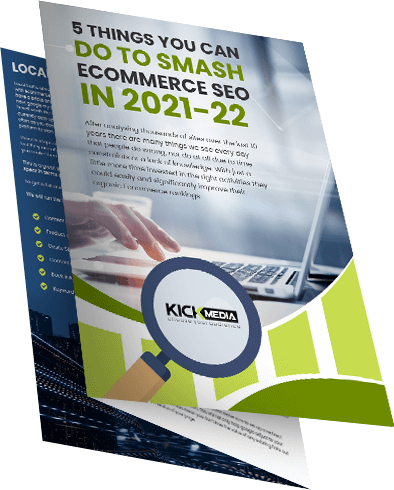 These 5 steps are actionable for most savvy Ecommerce marketers and don't require much technical knowledge at all, but they are all guaranteed to move the needle with little extra effort if you make them part of your process.
This is a great starting point for valuable SEO task you can implement yourself, however is only the tip of the spear in terms of SEO optimisations we can help you with.
To get a full audit for your brand or your clients reach out to us.
We will run the following the audit:
Content URL mapping analysis.
Product category keyword analysis.
Onsite SEO crawl of major ranking factors
Content correlation analysis
Back link analysis
Keyword competition analysis
Keyword opportunity analysis
SEO Viability Analysis
Competition vs Cost
Cost vs Return potential
keyword cluster search volumes
Contact us me at brendon@kickmedia.com.au or call us on +61 731802383